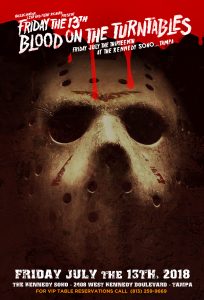 Friday the 13th of July
hallucination, czar, and filthy richard present…a filthy pop up.
The legendary party returns…
"FRIDAY THE 13TH – BLOOD ON THE TURNTABLES"
AT THE KENNEDY
TICKETS AVAILABLE NOW AT
www.BottParty.com

IT'S TIME TO STALK YOU, THE RETURN TO CAMP CRYSTAL LAKE…
Hallucination and Filthy Richard and crew are proud to announce a one night only music massacre Friday ( FILTHY ) the 13th Blood On The Turntables. Czar and the Filthy family will be at THE KENNEDY SOHO
Prepare yourself for your fate, the day has been chosen, you have been warned, you all are doomed, and on Friday the thirteenth nothing will save you.
An all star cast of maniac psycho djs…
These phonograph psychopaths are here to slice and dice murderous beats and basslines. When the night ends, all that will be left behind is chalk lines.
Fresh off his Asia tour, puttin' the G in Ginger, the legendary…
KENNEDY JONES
(nnevernot / los angeles CA )
https://www.facebook.com/kennedyjones/
http://www.kennedyjonestho.com/
MONK
(hallucination / filthy richard / czar / ritm)
MICHAEL KEAN
(hallucination / b.a.d.ass raves / dawning events / euphoric)
DOSE
( vizion 1 / elixir / 1200 hustle / orlando )
On the patio, the
BOOTS N CATZ TAKEOVER
High5ive
(hallucination / boots n catz)
NATE VERDE
(boots n catz)
KC GILMORE
(pig pen recordings / boots n catz)
TOMMY RIZE
(boots n catz)
Blood Soaked Visuals and Video Mapping
HALLUCINATION MEDIA feat. HALLUCINATION ON FILM
blood soaked visuals in full terrorvision
Full color lasers by
FULLcolorLASERS.com
Camp Crystal Lake Go-Go's by Poison Icing Entertainment
OUTLAW – as Jason Voorhees
DRESS UP!!!!!
It's Halfway to Halloween…..So grab your hockey masks, and get bloodied up for one of the best parties of the year! Bloody and classic horror film, 80's camp crystal lake counselor and camper victim attire and even fetish encouraged.
1st 100 people through the door get a free hockey horror mask courtesy of Pabst and Jason Voorhees.
1st lucky victims through the door get a free PBR
It's time to get filthy.
TICKETS AVAILABLE NOW AT
www.BottParty.com
www.BloodOnTheTurntables.com
Tier 1 Early Bird $13
Tier 2 $20
Tier 3 $25
Day of Show $30
More at the door.
18&up welcome
VIP TABLE SERVICE RESERVATIONS CONTACT 813-259-9669
Sponsors
PABST
JAGERMEISTER
SHADY TEEZ
FULLCOLORLASERS.com
ACIDFLYERS.com