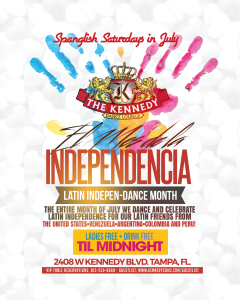 Spanglish Saturdays – El Mes de la Independencia!
A mix of Latin classics, Latin-American Remixes flavored with a little Latin house & club bangers!
El Mes de la Independencia!
Latin INDEPEN-DANCE MONTH
The entire month of July we dance and celebrate Latin Independence for our latin friends
LADIES IN FREE & DRINK FREE UNTIL MIDNIGHT!
Music
Featuring DJ NEKO & Special Guests
Bottle Specials
Call for Details

Doors
10pm-3am
THE KENNEDY
Come see our vision, feel our passion and be proud of what you have inspired us to create…
The best Latin night in Tampa with a gorgeous new bar, ragin' new sound stage, bass pumpin' new funktion one hybrid sound system for live acts and djs, a bootie shakin' new dance floor, and the utmost in VIP seating.