Monday's will never be the same.
Monday March 26th!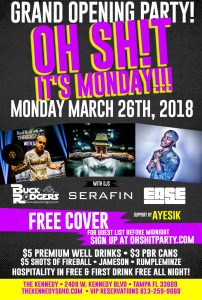 Tampa's brand new Monday Night Party!!!
with DJ SERAFIN
carving up his own style of hip hop • house • pop edm & party rock remixes & mashups
& SPECIAL GUESTS
BUCK RODGERS & DJ EASE
support dj Ayesik
FOR EVERYONE, ALL NIGHT DRINK SPECIALS…
$5 WELL DRINKS
$3 PBR CANS
$5 FIREBALL • JAMESON • RUMPLEMINZE SHOTS
S.I.N. SPECIALS:
S.ERVICE I.NDUSTRY N.IGHT FOR OUR FRIENDS IN HOSPITALITY….
• GET IN FREE AND FIRST DRINK ON US
• BUY ONE GET ONE BOTTLE DEALS FOR INDUSTRY GROUPS & BIRTHDAYS!
FOR VIP BOTTLE SERVICE RESERVATIONS CALL 813-259-9669
THE KENNEDY
2408 W. KENNEDY BLVD
TAMPA FL 33609
18 for girls, 21+ guys
SERAFIN
https://www.facebook.com/TheRealDJSerafin
BIO: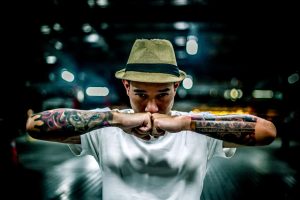 Often referred to as one of the top 10 remixers of all time, the Los Angeles-based DJ got his first set of turntables at age 12, and has been celebrated for his electrifying remixes and savvy technical style ever since. Serafin is well known not only for his mash-ups, but for the esteemed remix website Crooklynclan.net.
A well-known rising star and an established performer in the international DJ community, Serafin's particular mix of hip-hop, house, pop and rock has been wowing audiences throughout the U.S. and has established him as an elite force in the musical world.
This self-taught music producer and remixer got his big break in 2008, when Jive Records signed him on for his remixes for superstars Livvi Frank, Jordin Sparks and Britney Spears. In 2009, he proffered his skills to the Hip Hop All Stars video game app, the first DJ video game for the iPhone. He released his first original track "WHUT" under Peak Hour Records in 2010, and followed it with the single "Never Leave Her" in 2011, under Vector Mode records.
In 2011 Serafin produced "This that shit" with the legendary Greg Nice of Nice & Smooth. "This that shit" became an instant hit and one today's club anthems. In 2013 Serafin also just leant his remarkable production skills to Remix Parliament's "FLASHLIGHT" in the Motion Picture HEAT, starring Sandra Bullock & Melissa McCarthy and Produced the opening score in Robin Williams The Crazy Ones with Sarah Michelle Gellar.
Serafin started 2014 with a bang. Sharing the stage with the band "Royal Machines" in a Sold out show at The Mayan in Downtown Los Angeles, which is composed of rock legends, from Ozzy Osborne, Billy Idol, Dave Navaro, Courtney Love & James Belushi.